Jim Brickley
Jim has always loved a good adventure and the opportunity to explore. Now retired, Jim served for over 30 years as an Advanced Math teacher for high schoolers. He has been married for over 30 years to his wife Kathy and has 2 grown sons. Jim enjoys interacting in various environments with different cultures, and welcomes the challenges travel brings. His hobbies include motorcycling and scuba diving, as well as hiking and travel. He anticipates growing through diverse international encounters that challenge his paradigm of "normal" and looks forward to sharing these learning experiences with you on tour.
Scott & Ruth Burk
Scott and Ruth have been leading travelers on Walking Adventures for the past several years, sharing highlights of European and American destinations with fellow Adventurers! They love swimming in the Adriatic, traipsing across the ramparts of Dubrovnik, and spending a magical night in Mostar while on tour through Croatia, Montenegro, and Bosnia-Herzegovina. Red rocks take center stage as they hike their way through Arches, Bryce, and Zion in Utah. Wandering the byzantine marketplace in old town Jerusalem remains a travel highlight, while Patagonia tops their list of yet-to-visit destinations! Always on the lookout for the best viewpoint or hole-in-the-wall café, they enjoy finding the hidden treasures along those paths less traveled. While at home in the Pacific Northwest, they are passionate about their family, enjoy hosting soirees, and for several years now have helped to raise guide dogs for the blind.
Roger & Jana Dorway
Roger's business background connecting buyers and sellers, and Jana's career as a teacher provide this couple with a gift for connecting with people. They have always appreciated the experiential, paradigm-expanding value of travel, and have been privileged to explore destinations on 4 continents. Since retirement, they've increased their commitment to discovering the world, fostering a growing desire to share cultural and historical insights as part of the WAI guide team.
Dan Friesen, WAI President
As a teenager, Dan spent six months abroad with his family learning German, eating bratwurst, and exploring Europe in a VW Beetle. Twenty years later, while he was toiling away as a CPA, his father George said, "Dan, I need some help with my tour company. Would you be interested in traveling the world to plan fascinating walks, meet interesting locals, find intriguing cultural activities, and then share the Adventure with a fun and active group of travelers?" Dan considered the offer for about 30 seconds, then grabbed his overcoat and tendered his resignation on the way out the door. So now you know how the story began and why Dan is compelled to "count noses" on the coach.
Dan has been guiding tours for over 20 years. He took over the reins of the company from George Friesen, its founder and Dan's father, in the mid-nineties, and has been expanding the reach of Walking Adventures ever since. His personal interests lie in the areas of history and current events, and he enjoys exploring new areas of the planet, interacting with different cultures, and sharing these experiences with others.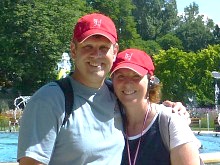 Tim & Jeannette Friesen
Tim and Jeannette have the dubious distinction of sharing the last name Friesen with certain other Team members (Tim is Dan's "little" brother). Tim spends the school year as a high school music teacher in Molalla, Oregon, and is occasionally known to burst into song on tour in places other than the shower! Jeannette works part time in the office helping travelers over the phone and generally keeping the rest of us organized! Tim and Jeannette currently lead summertime walking adventures, mostly in Europe, and are looking forward to the time when they can leave their day jobs behind and hit the trail on a year-round basis.
Russ & Judy Isom
Russ and Judy met at a voice lesson, and have been making music together now for over 44 years.  All that great harmony has resulted in three sons, three beautiful daughter-in-laws, and seven wonderful grandchildren. They love to be active and enjoy laughter and good times with others.  Both were raised in the Pacific Northwest so they're right at home in the great outdoors; one of their favorite hiking haunts is the Columbia River Gorge. Easy to talk to and walk with, Russ and Judy look forward to sharing the trail with you.
Scott Isom
Scott Isom has had a passion for the outdoors ever since his childhood days spent exploring the waterfalls and outstanding hiking trails of the Columbia River Gorge with his family. That sense of adventure continues with his wife, Debbie and their three girls on the terrific trails of Mt. Rainier National Park and in other natural wonderlands of the Pacific Northwest. Currently living in Puyallup, Washington, Scott loves to explore the unknown, knows how to have a good time, and enjoys including others in the fun! Scott has led tours on all 7 continents and is one of WAI's busiest guides and on-site Adventure planners.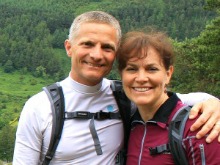 Todd & Chrissy Jones
Todd and Chrissy Jones both work on a public school calendar – Chrissy is a physical therapist supporting students with physical disabilities, and Todd teaches high school history, government and economics. Both of their daughters are off at college, which means they have summertime to enjoy walking adventures with you! They have traveled in Asia, Europe, and North and South America, and are immensely grateful for opportunities to discover and appreciate new environments and cultures.
Sierra Suits
Sierra Suits has a head for details and the heart of an explorer! As a part-time guide and full-time tour planner in the office, Sierra spends much of her time pulling together the ins and outs of WAI Adventures. Sierra believes that all destinations have the power to teach and transform, and her favorite travel experiences so far have both taken place in Eastern Europe – namely exploring Prague, and hiking in the Elbe Sandstone Mountains. Sierra is scheduled to guide the 2018 departure of Unforgettable Utah, and looks forward to exploring cultures and landscapes on tour with our travelers!