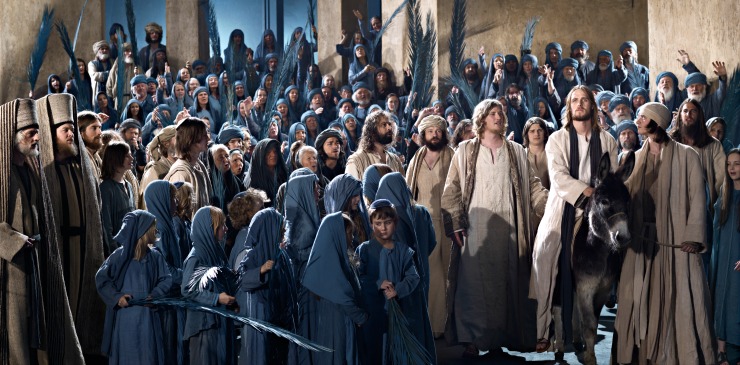 Oberammergau Passion Play 2022
Germany, Austria, Italy, Switzerland, Liechtenstein
Tour #1: August 17 – 28, 2022 • 12 Days • Price TBA**
Tour #2: September 23 – October 4, 2022 • 12 Days • Price TBA**
We are thrilled to share a once-in-a-lifetime experience, the Oberammergau Passion Play, with our WAI travelers on a tour through the bucolic landscapes and charming villages of Germany, Austria, Liechtenstein, Switzerland and Italy!
NOTE: Both departures of the Oberammergau Passion Play 2022 are currently full. Please notify our office at [email protected] to add your name to the standby list.
Tour Type:
Classic Curated
The performance of the Oberammergau Passion Play dates back nearly 400 years to 1633, when the town of Oberammergau was in the throes of the bubonic plague. Villagers got together and made a vow to God that if He would remove the plague, they would produce a play regularly, in perpetuity, depicting the last week of Jesus' life, including his crucifixion and resurrection, which is commonly known as the Passion of Christ. The plague did subside, and the villagers kept their promise. The first play was performed in 1634, and eventually, it became an event performed every 10th year for five months, between May and early October. The next summer of performances is in 2022!
Walking Adventures has taken groups to the Oberammergau Passion Play in the years 2000 and 2010. We now offer two tours to see the rescheduled play again in 2022.
The play takes place in the afternoon and evening. It's an outstanding performance conducted by the villagers themselves. There are no professional actors in the play. All actors must be residents and rigid qualifications for residency are religiously enforced. For example, actors must have resided in Oberammergau for 20 years, but can shorten that requirement to 10 years by marrying a true local.
Our tour starts in Frankfurt, Germany, and follows parts of the Romantic Road through some of Germany's most picturesque and historic medieval towns, including charming Rothenburg. From Rothenberg, we journey to Oberammergau and the Passion Play Experience. Leaving Oberammergau, we continue south, spending 2 nights in a quiet Alpine valley in Austria, and journeying from there to the tiny principality of Liechtenstein, a country which measures just 15 miles from north to south, yet offers one of the highest standards of living in the world. After a couple of stops in lovely Switzerland, we drive across the Alps to Italy's Lake Como, enjoying an idyllic two nights in the charming Lake Como village of Cernobbio. We fly home from Milan.
This is a draft itinerary. Revisions will be made, and an updated itinerary with dates and pricing will be made available!
What's Included:
All land travel by motorcoach as outlined
One group transfer to the airport on last day
Superior tourist-class or better hotel accommodations
Meals: Due to Covid uncertainties, meals to be included will be determined at a later date. We expect all breakfasts to be included at a minimum.
Walk routes
Fees for walking credit (if IVV approved; for those collecting IVV credit)
Cultural and historical expertise of local guides and national guide  throughout the program
All tipping for national and local guides, coach drivers and group meals
Pricing is based on double occupancy; a limited number of single rooms are available for a supplement. We also provide a roommate matching service.
Activities/Visits to:
Würzburg Residence
St James Church – Rothenburg
Oberammergau Passion Play
Achensee Steam Cog Railway
Alpbach cablecar
St. Gallen Stiftsbibliothek (library)
Ferries on Lake Como
More fun and educational stops than we can list!
Optional Excursions:
Heidelberg walk and castle visit (DAY 1)
Tour Pace: 1 2 3 4 5
Walk Challenge: 1 2 3 4 5
Contact Us
Hildrun Mathies is one of our favorite overseas guides! She has a wealth of knowledge and experience, with a Master's Degree in Art History and Religious Science; fluency in English, French, Spanish, and her native German; and over 20 years of experience guiding groups through central Europe. But it is Hildrun's special blend of in-depth knowledge, lighthearted presentation style, passion for sharing, and her commitment to making the travel experience the best it can be for her travelers, that makes a trip with her so memorable.
Itinerary
This is a draft itinerary. Revisions will be made, and an updated itinerary with final pricing will be made available!
Click on each day to reveal more details – BLD refers to meals included, Breakfast, Lunch and Dinner. For now, only breakfast are shown as included due to Covid uncertainties. We plan to include 1 lunch and 7 dinners as well and will update the itinerary as plans clarify.

DAY 1: Arrive Frankfurt – transfer to Heidelberg, Germany (D)
Heidelberg Philosopher's Way Walk – 3 km, rated 2B (optional)
The classic city of Heidelberg, with its famed castle perched on a cliff overlooking the town and the Neckar River, is a symbol of German Romanticism and a wonderful place to gather for our journey to Oberammergau.
Heidelberg walk and castle visit optional excursion: Those who arrive a day early are invited to join us for a half day excursion through Heidelberg that includes the Philosopher's Way Walk, where professors from Germany's oldest university strolled for reflection and contemplative discussion. The walk drops us into the historic core of this medieval gem for an extended lunch break, followed by a visit to famed Heidelberg Castle. The town and the castle, still a shell of impressive proportions, both harken back to the 17th century, and the 30 Years War, the same period during which the town of Oberammergau made their now-famous vow. 
The first official group activity will be a Welcome Orientation in our hotel this evening followed by dinner together.
DAY 2: Heidelberg – Rothenburg ob der Tauber, Germany (B)
Würzburg Walking Tour – 2 km, unrated
The featured stop today is the city of Würzburg, situated attractively in a bowl-like bend in the Main River. The town is surrounded by vineyards producing the light, dry, white Franconia wine, which is also the name of this northern region of the State of Bavaria. We start our visit with a walking tour of the core of this city which has played a conspicuous role in Germanic politics, culture, and religion. Germanic Franks controlled the area in the 7th century before accepting Christian beliefs offered by Irish missionaries. Catholic bishops of Würzburg doubled as civic rulers of Franconia until the region was absorbed into the Kingdom of Bavaria in the 19th century.  After free time for lunch, we enter the spectacular, UNESCO-listed Residence, commissioned by the Prince-Bishop of Würzburg in 1720 (the title emblematic of the dual civic/church nature of leadership throughout Germanic Europe). The chapel, Imperial Hall, and grand staircase are particularly famous highlights of Baroque architecture. From Würzburg, we join the Romantic Road bound for Rothenburg ob der Tauber and a two-night stay.
DAY 3: Activities in Rothenburg (B)
Medieval Rothenburg Walk – 8/12 km, unrated
Rothenburg Walking Tour – 2 km, unrated
Many observers rightly consider Rothenburg ob der Tauber the foremost jewel in the medieval crown of Germany. Visitors see it as the iconic German fairytale town; one can picture Hansel and Gretel walking down the cobblestone lanes! Our walk offers a tantalizing introduction to this lovely medieval gem. Rothenburg was well-situated for trade, was granted Free Imperial City status in the Middle Ages, and became one of the most prosperous towns in the Holy Roman Empire.  The 30 Years War and resulting famine and plagues took a devastating toll, however, and the town drifted into obscurity, falling into a slumber which preserved its monuments from the natural transformation that follows change and development. Rothenburg was discovered in the modern age of tourism, awakening from its slumber to welcome visitors with its picturesque old half-timbered houses, majestic stone churches, winding cobblestone passages, and fully intact fortifications. Our walk takes us through the captivating center to pastoral landscapes outside the town for a multi-faceted Rothenburg experience. Following free time for lunch, we invite you to join us for a deeper look at the delights of Rothenburg on an afternoon walking tour led by Hildrun.
DAY 4: Rothenburg – Oberammergau, Germany (B)
We drive south today along Germany's Romantic Road with stops en route to imbibe the lingering medieval ambiance at a couple of these still-walled villages. This afternoon, we find ourselves in the foothills of the Bavarian Alps en route to one of the most famous towns in Alpine Europe. Oberammergau is a charming community set on a mountain plateau in the Alpine foothills. Wood carving is the traditional occupation and this, along with fresco-filled walls of Alpine chalets, and window boxes bursting with colorful geraniums, gives the town a photogenic, storybook ambiance. We check into our hotel in the area for a two-night stay, looking forward to the main event of the tour tomorrow afternoon.
DAY 5: Activities in Oberammergau (B)
The performance of the Oberammergau Passion Play dates back nearly 400 years to 1633, when the town of Oberammergau was in the throes of the bubonic plague. Villagers got together and vowed to God that if He would remove the plague, they would perform a play regularly, in perpetuity, depicting the last week of Jesus' life, including his crucifixion and resurrection, the period commonly known as the Passion of Christ. The plague did subside, and the villagers kept their promise. The first play was performed in 1634, and eventually, it became an event performed every 10th year for five months, between May and early October. After a leisurely morning, we have lunch in town before attending the performance, which is offered in two 3-hour acts with dinner at a nearby restaurant served in between.
DAY 6: Oberammergau – Alpbach, Austria (B)
Achensee Lake Walk – 7/15 km, unrated
After a late, and memorable, evening in Oberammergau, we start today a bit slower, continuing our drive south into the Alps of Austria. Our first destination is the lovely Alpine lake, Achensee. The lake is blessed with a striking emerald color and sits between two Alpine ranges, producing the rugged, walled-in appearance of a fjord. Several walk routes are offered by the local club and the determination of which to include will be made during an on-site scouting trip by your WAI guides later in 2019. Following the walk, we board Europe's oldest steam-powered cog-wheel train, "St Joseph". Since 1889, St Joseph has been hauling visitors back and forth from the shores of Lake Achensee down to the Inn Valley and back, a drop of nearly 1500 feet. The train transports us to the valley town of Jenbach where our coach then takes us to nearby Alpbach, our Austrian Alpine home for the next two nights.
DAY 7: Activities from Alpbach (B)
Panorama Way Wiedersbergerhorn Walk – 4 km, rated 2B
Isolated at the end of the valley, Alpbach had no road connecting it with the rest of the Tyrol until 1920, one of the primary reasons it has been able to preserve its authentic architecture. Often near the top of various lists of "Austria's most beautiful villages", Alpbach has also been voted the most beautiful flower town of Europe, and since 1945 has been the venue for the Alpbach European Forum, a conference of leading figures from the worlds of science, business, politics, and the arts. The town continues to abide by building regulations implemented in 1953, and the result is a wonderful collection of venerable wooden homes and chalets. From our hotel, itself an historical building, we approach the nearby cable car station for a ride up the mountain called Wiedersbergerhorn (don't try to say it fast!). Our 4-kilometer trail takes place at around 6000 feet above sea level and circumnavigates the peak, offering stunning views of the surrounding alps. Lunch in the mountain lodge precedes our return to the plateau and Alpbach. Afternoon activities are under consideration but could include a walk through town led by Hildrun, who explains the traditions and architecture of Alpbach. You are on your own to explore town for dinner this evening.
DAY 8: Alpbach – Bregenz, Austria (B)
Principality of Liechtenstein Walk – 5 km, unrated (unsanctioned)
Liechtenstein is a German-speaking microstate nestled between Austria and Switzerland on the Rhine River measuring only 15 miles from north to south. It is one of only two nations in the world that are doubly landlocked; two national borders must be crossed to reach a coastline. How Liechtenstein came to be a tiny (slightly smaller than Washington, DC), independent European state is a tale shrouded in the mists of the European feudal system and the oxymoronic Holy Roman Empire (federation of German states). Our walk route will feature lovely alpine panoramas of this strange little country that boasts one of the highest standards of living in the world yet has no airport, no university, no department stores, and feels no need to cater to the jet set or attract international institutions. From Liechtenstein, we continue north, back into Austria, for a two night stay in lovely Bregenz, on the shores of Lake Constance – third largest lake in Central Europe.
DAY 9: Activities from Bregenz (B)
St. Gallen, Switzerland Walk – 5/10 km, unrated
Bregenz Walking tour – 2 km, unrated
The bulk of today is spent in Switzerland. St. Gallen is capital of the canton of the same name and is located in the German-speaking region of Switzerland between Lake Constance and the Appenzell Alps. The town has a medieval past and is named after Gallus, a 7th century Irish missionary. A local club walk helps us explore St. Gallen, which boasts 28 sites listed on the register of Swiss Heritage Sites. The town is also known as the originator of embroidery machines at the beginning of the 19th century; by 1910, embroidered goods comprised the largest segment of Swiss exports. The main attraction for us, however, is the Abbey of St. Gall, famous for its UNESCO-listed library, a repository of books dating as far back as the 9th century, housed in a stunning example of baroque architecture. After the walk, time for lunch, and a visit to the town and library with Hildrun, we return to Bregenz. Situated on a plateau overlooking Lake Constance, Bregenz is built on a series of terraces that descend to the shores of the lake. A walking tour of the historic core and along the pleasant lake side promenade of this special Austrian town is the perfect way to spend the late afternoon.
DAY 10: Bregenz – Cernobbio, Italy (B)
Lugano Walking Tour – 2 km, unrated
Our longest driving day takes us south through Switzerland into the Italian-speaking section of this nation of four official languages. Our first stop is a break for lunch and a walking tour in Lugano, one of Switzerland's most popular tourist destinations and home to the largest Italian-speaking community outside Italy. The city enjoys an unusually humid subtropical climate, hosting vegetation from the subtropics alongside deciduous forests, and is set on an attractive lake which straddles the border with Italy. Leaving Lugano, we cross into Italy, then board a ferry to Bellagio. Not to be confused with the Vegas hotel, which borrowed its name and motif, Bellagio sits on a picturesque promontory at the intersection of all three legs of Lake Como. It's a delightful place to stroll, people watch, and soak in the ambiance of a classic Italy lake district village. Long a popular retreat for aristocrats and the wealthy, Lake Como is considered by some to be one of the world's most beautiful lakes due to its favorable microclimate and a plethora of photogenic and prestigious villas and villages. Our home for the next two nights is a ferry ride away in another charming Lake Como village – Cernobbio!
DAY 11: Activities from Cernobbio (B)
Lombardy, Italy Walk – Distance and rating TBD
The final day of the journey provides opportunity to explore the Lombardy countryside on our final walk of the tour. With their medieval towns, renaissance architecture, and bucolic agricultural scenes, Lombardy and the Italian lake district are the link between Italy and the Alps, the transition from the more traditional images of Italy to the south and the pristine panoramas of Alpine Europe. While we anticipate a memorable day exploring on foot, one of our objectives is to allow down time to enjoy the delightful Lake Como town of Cernobbio in which we are staying. As witnessed by the high number of exclusive villas and gardens throughout the area, Cernobbio has been the favorite vacation destination for the wealthy families from Milan and Hollywood stars since the beginning of the 20th century. After our visit, you'll understand its appeal to the rich and famous. We rendezvous this evening for a farewell dinner of memories and reminiscing.
DAY 12: Depart Italy (B)
Milan's Malpensa Airport is about a 45-minute drive from Cernobbio. Following breakfast, and according to traveler departure schedules, one bus transfer to the airport is provided. Without a doubt, the Passion Play at Oberammergau is the centerpiece of this European odyssey. But what a wealth of diverse landscapes and cultures that lie within a relatively short radius of this small Bavarian village in the German alps. Thank you for sharing the adventure!
How do I lock in my place on this Adventure?
The Oberammergau Passion Play is a unique, once-in-10-years experience. Adding to the singular nature of this tour is our shared, worldwide experience with Covid-19. Because the Passion Play is in high demand, and tickets are difficult to obtain, we are forced to request non-refundable deposits before we are able to finalize hotel and other bookings for the tour.
Therefore, a $300 non-refundable deposit is required to hold a spot on this tour at this time. Later this summer or fall, a final itinerary with final pricing will be available. That final price will be between $5000 and $5500 per person. A second non-refundable payment of $600 is due Jan 15, 2022 with a final payment due 60 days before departure.
An email with critical information on flight arrangements will be sent soon after registration, with important details about steps to take in the months before your trip. Please do not buy your airline tickets until you review the Flight Arrangements email.
Please follow this link to read our full General Tour Conditions.
What's a Classic Curated Tour?
With help from local experts and walking guides, these itineraries are hand-crafted with extensive on-site planning by WAI tour planners.
When planning Classic Curated Tours, our objective is to capture the essence of a destination–the history, culture, and natural wonders unique to that part of the world. We then build activities and walks that take us inside these characteristics.
Yes, these tours are educational, but they are also interactive and immersive; walking gets us off the bus and penetrates local cultures to not only see but touch, smell, and feel these special spaces.
Along the way, local walking guides amplify the experience by sharing insights into the magic of that particular location.
Walk Ratings
We generally walk at a pace of 2 to 3 miles per hour. In most cases, we are not "strolling." We are walking at a relaxed but steady pace. Your experience will be significantly affected by your level of physical fitness. Because these are group walks, the success of the walks is predicated upon walkers having this minimum level of fitness in order to ensure that we are walking at a somewhat similar pace. If not walking regularly at home, we strongly recommend that you make a priority of "training" beforehand in order to both enjoy the trip and avoid medical issues due to overexertion. If you have questions about your ability to participate, please talk with our office.
We have adopted a walk difficulty rating system which contains a numeric indicator for trail incline and an alpha indicator for trail terrain. The explanation for this system is presented below:
INCLINE
1. Very small hills or very little stair climbing. Cumulative elevation gain from Starting Point: up to 200 feet.
2. Some moderate hills and stair climbing. Cumulative elevation gain from Starting Point: 200-1000 feet.
3. Some significant hill or stair climbing. Cumulative elevation gain from Starting Point: 1000-2000 feet.
4. Lots of significant hills or stair climbing. Cumulative elevation gain from Starting Point: 2000-3500 feet.
5. Many steep hills. Cumulative elevation gain from Starting Point: more than 3500 feet.
TERRAIN
A. Almost entirely on pavement.
B. A significant part of the route is on well-groomed trails with very few obstacles.
C. A significant part of the route is on somewhat difficult terrain (rocky / rooted paths or soft sand).
D. A significant part of the route is on very difficult terrain.
E. The majority of the route is on very difficult terrain.
Elevation on Tour
The highest altitude we encounter on the Oberammergau Passion Play tour takes place on Day 6 during our Panorama Way Wiedersbergerhorn Walk. We'll be at around 6000 feet above sea level on this 4-kilometer trail and will enjoy lunch at a mountain lodge before returning to lower elevations.
How is Airfare Arranged?
This Adventure officially starts in Heidelberg, Germany (closest airport is Frankfurt; airport code FRA) and finishes with a group transfer to Malpensa Airport in Milan, Italy (airport code MXP). More details about flight arrangements and travel agent contact information will be made available after tour details have been finalized.
Travel Insurance
WAI believes strongly in the importance of travel insurance for financial and medical protection from any number of unforeseen circumstances that can arise before departure or during your Adventure. This is now especially true in the era of COVID-19, which is typically treated like any other illness for travel insurance purposes. Many travel insurance providers are available for you to consider. Laura Pfahler and Sharon Mitchell of World Travel Inc. are travel agents who provides air travel and insurance services to many WAI travelers.
Check out Insurance Tips from World Travel for a short introduction to travel insurance. (NOTE: WAI receives no commission or financial remuneration from World Travel Inc.).
As always, do some shopping to ensure you are getting the best value. Using the SquareMouth.com website can be a good way to compare pricing.
Other options include:
Allianz
Betins
Travel Guard
Travel Insured International
NOTE: We suggest purchasing from a reputable, well-established insurance company (avoid buying insurance from an unknown company found only online). Travelers interested in purchasing "cancel for any reason" insurance coverage should be careful to check pricing and terms BEFORE they register for a tour. Recent changes in the international travel landscape has caused changes in the policies of some insurance companies, and made the purchase of this particular type of policy even more time-sensitive.
Tour Cancellations
Walking Adventures International reserves the right to cancel this tour departure with fewer than 12 participants, in which case registered participants will receive a 100% refund of payments received. This refund policy contains one exclusion related to the COVID-19 outbreak. Many suppliers require non-refundable deposits as a condition of booking services. Unforeseen circumstances linked to the virus can force us to cancel a tour. Due to these supplier's non-refundable policies, WAI intends to retrieve as much of these deposits as possible, but cannot guarantee a 100% refund. In cases where full refunds cannot be obtained for a cancelled tour, we will do our best to transfer unrefunded money as traveler credits to be applied to a future tour to that destination.
View our full Coronavirus FAQ for more details.
COVID-19 Policies and Procedures
The Our Approach to Fun but Prudent Travel document identifies and explains Covid-19 mitigation policies and procedures WAI is using as a starting point for our 2022 tours. Because the knowledge base about COVID-19 changes daily, we review these policies and procedures on an ongoing basis, and will, of course, notify travelers on tour of updates as we approach the departure date of your tour.
Contact our office with any questions at 360.260.9393 or [email protected].
COVID-19 Travel Waiver
During this age of COVID-19, WAI evaluates worldwide reports and conditions on an ongoing basis. Please read our COVID-19 Policies and Procedures document before signing the COVID-19 Travel Waiver. Participation in this tour requires your signature on the COVID-19 Travel Waiver.
Contact our office with any questions at 360.260.9393 or [email protected].
What happens next?
We are currently developing the itinerary for this Adventure. However, in order to secure extremely limited space at the Oberammergau Passion Play, the central event of this tour, a non-refundable deposit of $300 per person is required to hold a spot on the tour. Later in 2021, we will finalize bookings for hotels and other services. We expect the final tour price to be between $5000 and $5500.